How can construction technology be used efficiently to help support compressed project schedules?
In this blog, we share our experience of how we were able to successfully enable the installation of electrical rooms in a data center project, in nearly half the time.
Typically, installation of electrical rooms on data center projects can take up to 6 months, given the complexity associated with equipment placement and rack & conduit installation. In our data center project, located in Nevada, we were able to successfully install the electrical room in 3 months (50% time savings). This required a complete overhaul of our plans, including re-ordering activities, redefining dependencies of activities, and most importantly using technology such as laser scanning and prefabrication effectively.
Outlined below are the processes, workflow, and some best practices we adopted, in this project:
1. Laser Scanning for accuracy: Accuracy is critical to all projects, especially in data center project electrical rooms. We used laser scanning, to accurately capture the existing electrical room components such as walls, structural beams underground electrical stub-ups. Combining the scan-to-BIM with equipment layout BIM, helped us ensure precision and particularly with equipment placement.
2. BIM for prefabrication:
a.The electrical room BIM was developed at LOD 400 and divided into different spools. This was helpful in prefabrication of each spool into a unique pallet.
b.For each spool set, prefabrication drawings with detailed instructions were created and sent to the prefabrication shop.
c.The prefabricated spools were shipped from shop to site.
d.Points were laid out on the field for rack insertion and conduit entry points.
e.Conduit spools were installed per the BIM, prior to equipment installation.
3. QC using Augmented Reality: Onsite QC was performed using the HoloLens, to ensure that the installation was consistent with the BIM.
4. Equipment Installation: As the last step, the equipment was slid under the conduits to complete the installation.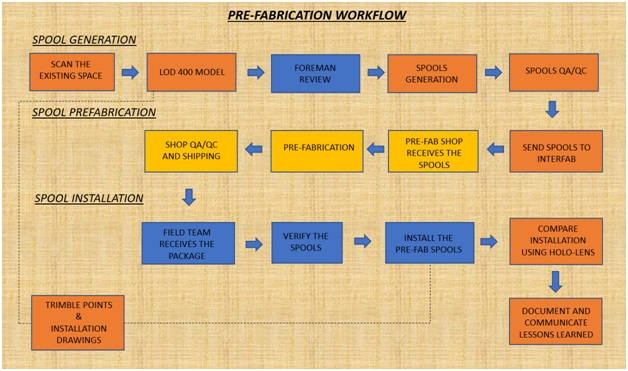 The outcome: Our meticulous planning, and effective use of appropriate construction technology, led to 50% time savings and 40% cost savings for our client.
Traditional installation of electrical rooms in Data Centers takes at least 6 months, owing to the dependency of equipment placement first before we install racks and conduits. This, in turn, affected our plan to complete a Data Center project in Nevada within the accelerated schedule of 3 months. In this blog, we will demonstrate how we caught up with the schedule by reordering the activities and redefining the dependencies by taking advantage of techniques like Laser Scanning and Pre-fabrication.
Step 1 – In order to ensure the precision and reduce the tolerance of error, it is advisable to scan the existing Electrical space to capture the Walls, Structural Beams, and Electrical Conduit Stub-up from Underground which determines the Equipment Placement
Step 2 – Entire Electrical room was modeled at LOD 400 and divided into different spools so it can be prefabricated into different palettes.
Step 3 – For Every Spool set, the pre-fabrication drawings are created and sent to the pre-fabrication shop with detailed instructions.
Step 4 – After Pre-fabrication, the pre-fab spools are shipped to site.
Step 5 – Trimble points are shot in the field for the Rack Insertion and Conduit Entry points.
Step 6 – Conduit spools are installed as per the BIM Model even before the Equipment installation
Step 7 – Installation is done as per the BIM Model and ensured by using Hololens for Visual Inspection
Step 8 – The Equipment is slided underneath the Conduits to complete the Installation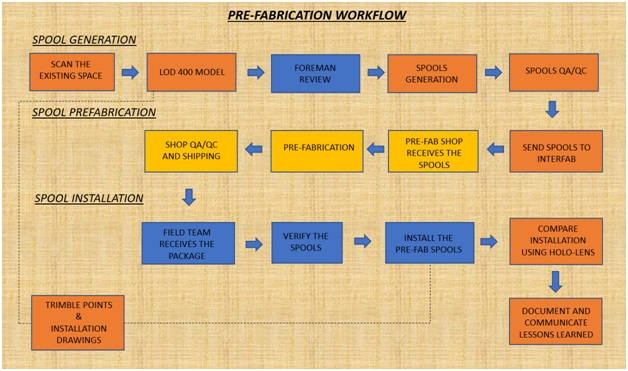 As a result, we were able to install with high precision and save 40% costs for a leading electrical contractor.